---
General Machinery Processed Goods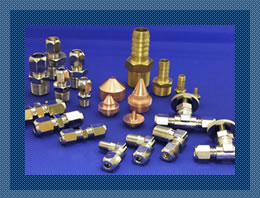 We always help you for various machinery processes.
Our company has been supported by a brace of many users and grew as a valve maker and producer of copper pipe joints for air-conditioning instrumentation since the formation. Today, with acquired skills and knowhow, all precious parts are processable for us.
Especially, precious turning products with small thread, low amount and single prototype, various screw threads processes (PT, PF, NPP, Unified thread, inch-screw threads), and nonferrous products including resin, are in our line. We can process products which are avoided from other companies. Please feel free to inquire.
We offer machinery processes making great use of 40 years experience. We can respond to various machinery processes with acquired knowhow of joints and nozzles manufacture, and jig parts processes.
We can also process variety of materials; SUS, aluminum, iron, copper, brass, and resin.
We specialize in the process of precious turning products, so a wide variety of screws, bolts, pins, and shafts are in our line.
FAX the drawings, and then we will give you quotation and manufacture. If you plan for production, please feel free to inquire.
---


---