---
Anti-Spatter Sheet (Flame-resistant paper GP)

The wait is over! The dream curing sheet defying the common wisdom appears!
Curing sheets protecting products and facilities from welding flame.

Have you been in trouble with weld spatter splashing and sticking products and facilities around? With this sheet, you can never be in such trouble.
Flame-resistant for flammables

Flame-resistant paper GP is a noncombustible matter made mainly by ceramics, so it does not flare by welding flame. It especially works well to protect catching fire to flammables in the work place. Heat conductivity is like woods so that it unlikely gets high temperatures.
Great deal and user-friendly

No more expensive fabric spatter sheet! The cost of flame-resistant paper GP is about 1/10 of fabric one, so you can use as disposables. Also the sheet is rolled for space-saving, and you can easily handle by cutting scissors and cutters without any difficulty.
Type
Length
Size
GP18-10
10 meters long
0.25mm × 1,100mm × 10m
GP18-100
100 meters long
0.25mm × 1,100mm × 100m
Paper thickness 0.25mm Width 1,100mm
---
The protection performance depends on the service condition. Please try first to confirm the performance.
Please use as disposables because it can be blackened and damaged due to welding flame.
For more protection, use multiple flame-resistant papers in a stack.
When machine oil is absorbed, please exchange to new sheet to avoid ignition.
Dispose as unburnable waste.
CeramiShield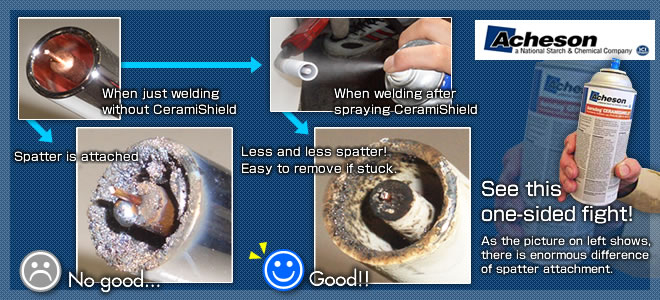 For semi-auto welding and robot welding—you will see significant effect by ceramic coating!
You cannot ignore the difference from traditional product.

Spray CeramiShield at the end of the torch nozzle of a semi-auto welder to have ceramic coating protection. By doing so, attachment of spatter is minimized so that productivity is improved and welding sensitivity is stabilized. Try this revolutionary product and compare with traditional ones; sprays and canned jelly.
Consummate the reduction of working hours and enhancement of productivity in lower cost.

You only need to spray CeramiShield once a day and the effect continues for whole day. This is a great deal because one CeramiShiled can be used for 70 times; that is, 70 days. With CeramiShield sprayed, spatter attachment is minimized and the spatter is easily removed by patting by hands even though some are attached. You can save time of spatter removal, so the productivity is definitely increased.
---



---